On Tuesday we arrived in Ellensburg, WA around 9:30pm and our online blogging friends,
Cora
&
Jim
, were waiting to meet us. They met us on the edge of town and we followed them to the Fred Meyer parking lot. We were ready to park and relax. It was our 2nd night in a row where we were driving in the dark. Not big fans of that. We want to hightail it home, but I am guessing we will stop before darkness.
Cora & Jim are a hoot! I connected with them online (via Kim) because they are waiting to adopt from Burundi & China. We adopted from China a few years ago and I am still plugged into the online adoption community. When we started planning our trip to AK we figured we might get a chance to meet Cora & Jim in WA. When we turned south due to RV issues, the plan to meet was on. They were troopers to stay up late (Jim gets up for work early!) to meet us and we had a lot of laughs. Jim is a great artist and he brought some pictures he created for us and they gave us a BUNCH of WA cherries. I was so excited because we had spent several hours traveling past fruit stands and we didn't take the time to stop at any of them. Anyway, we spent about 90 mins with Jim & Cora and everyone had a good time. Cora & Dori bonded and the boys enjoyed Jim. Jim just got a new camera (named Precious) and he actually let Jake touch it. WOW! We had fun trying to take jumping photos in the parking lot. I will go pilfer the pics of Jim to post. LOL!
While they are waiting to adopt, Jim & Cora are holding a few fundraisers to support their adoptions. Cora sews adorable outfits and blankets and sells them on her
Little Misses Blankets & Stuff
blog and together they have created
Color Me Home
books. These coloring books are awesome! We have ALL of them! Jim draws the pictures and Cora compiles the books. These are NOT your typical coloring book. They've done a Under the Sea, Transportation, Dragons, and Animals. Take a look at some of the pages we've colored and you will see that each page is detailed but not cluttered with extras that take away from the design. They are perfect for all ages! Eric loves to color them too! We got a sneak peak of the upcoming Princess book which is going to be a story of sorts.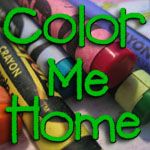 Cora recently started making crayon rolls that can be used with the coloring books. I got one for each of my kid and they love them! Dori got crayons and the boys each got the colored pencil rolls. Dori has done a lot of coloring on the trip and it's been nice to NOT have crayons all over the place. We also like how there is a cord with a cord stop on it. Dori can roll them up and secure them herself. Cora is in the process of making up a bunch of these to sell at a local festival in August, but I am sure she'd be happy to make any you want to order. The crayon rolls are $10 for 16 crayons, $12 for 24 crayons, and the colored pencil rolls are $15.
I know that several of our readers have younger kids or grandkids who would LOVE these coloring books. I have made a donation to Cora & Jim so that they can send one of these great books to one of our readers. To enter you just need to leave a comment in this post saying why you'd like to win the free book. The winner will get their choice of books (Under the Sea, Transportation, Dragons, Animals, or maybe even the Princess if it's done!) and it will be mailed straight from WA to the US post address of your choice. If you don't win, don't fret! These books can be purchased for a donation of $5 + a shipping charge. Order several and save on shipping. Great to have on hand for gifts. See the
Color Me Home
blog for more info.
The giveaway will go through Friday, July 30th. I will announce the winner on July 31st. If you are entering the giveaway and you don't have your email linked to your blogger account you can check back when the giveaway is over and contact me then or just leave your email address in your comment now.
Jim sent this to us before the trip. Eric colored it and
I laminated
it and put it up in the window of the rig.